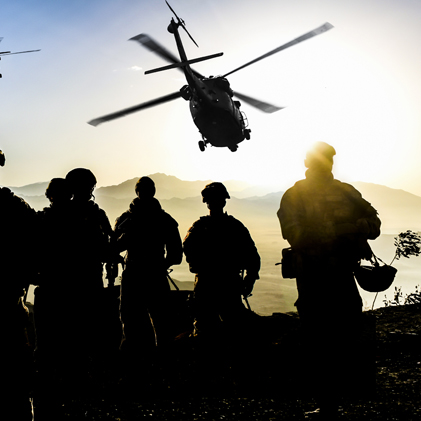 We know military RF design.
Military and government agencies have been at the forefront in the use of wireless solutions since the early days of radio. NextGen RF has supported development of software defined radio front ends, MESH radio transceivers, antenna design and implementation and highly linear RF power amplifies.
Multi-Band Software Defined Radios (SDR)
Anti-Jam radios for Unmanned Aerial Vehicles (UAVs)
Radio Control System for Expeditionary Airfield Lighting System

RF/Wireless
Low noise receivers to high power transmitters. Pre-certified modules or chip down solutions.

Custom antenna simulation and design. Three-axis antenna pattern measurements, tuning and
optimization.

Power supplies, DAC/ADC, USB, Ethernet, UART, SPI, CPRI, high speed memory, voltage
and waveform generation.

Test Fixtures & ATS
EOL and Functional Test Fixtures, fixtures for RF/Wireless, single or multi-up. Automated
Test Systems. Certified LabVIEW programmers.

PCB Design
RF, High Power, and high speed digital expertise. Single sided, double sided, multi-layer.
Altium, Mentor Graphics, OrCAD.